Annual Youth Camp
Forts Lake Assembly hosts their annual youth camp each year in June. This camp is for the purpose of reaching, teaching and preparing youth from across the region to become all that they can be for God. Currently, there are over 25 churches that support this camp by bringing their youth and volunteering their time.
This camp includes two services each day, indoor and outdoor games, sports, activities, hot meals, air-conditioned dorms and hot showers.
Camp Date and Ages
Date: Monday, June 12 – Friday, June 16
Ages: 12 – 18 (Campers), 19 (CI.T.s), 20+ (Counselors and volunteers)
Camp Speakers
Morning Speaker: Stephen Taylor and Doug Chapman
Evening Speaker: Roger Luke
Registration
If you or your child would like to attend this year's Youth Camp, you will need to complete the
online application.
This application is for campers, CITs, counselors, and other volunteer positions. All registration applications are due by 11:59 PM on May 18th. Any applications submitted after this date will be subject to a $25 late fee. You should also read either the
Couselor's Handbook
or the
Camper's Handbook
for items that are allowed/disallowed and dress code for the camp.
Banquet
A banquet will be held for all registered counselors and campers on Thursday evening. This is included in the registration fee.
NOTE: The banquet is free for registered campers and counselors, but there will be a meal charge of $10/person for anyone attending and is not a registered camper or counselor. Advanced notice is required so that seating and food is available.
This banquet reservation is for the spouse of any

registered

counselor. No parent(s) of campers please.
Please RSVP using the form found

here

.
Live Stream
We do plan to live stream the evening services to ChurchCasting.io, Facebook (church and Youth Camp), YouTube, and to our church website. Times and links will be posted here and to our social media sites (Twitter, Facebook, and Instagram).
Follow us to get the latest updates!
Concessions
Concession items will be served after the services each night as well as drinks and snacks during the day. Concession items are not covered in the registration fee and must be purchased separately. A concession card can be purchased during registration (and at any time during camp) to eliminate keeping cash on hand.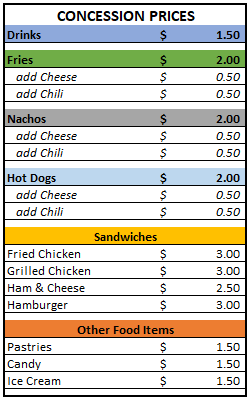 Request More Information
If you would like more information about our Youth Camp, please reach out to us
here
.